Home
>
The Next Generation of Meetings and Events
The Next Generation of Meetings and Events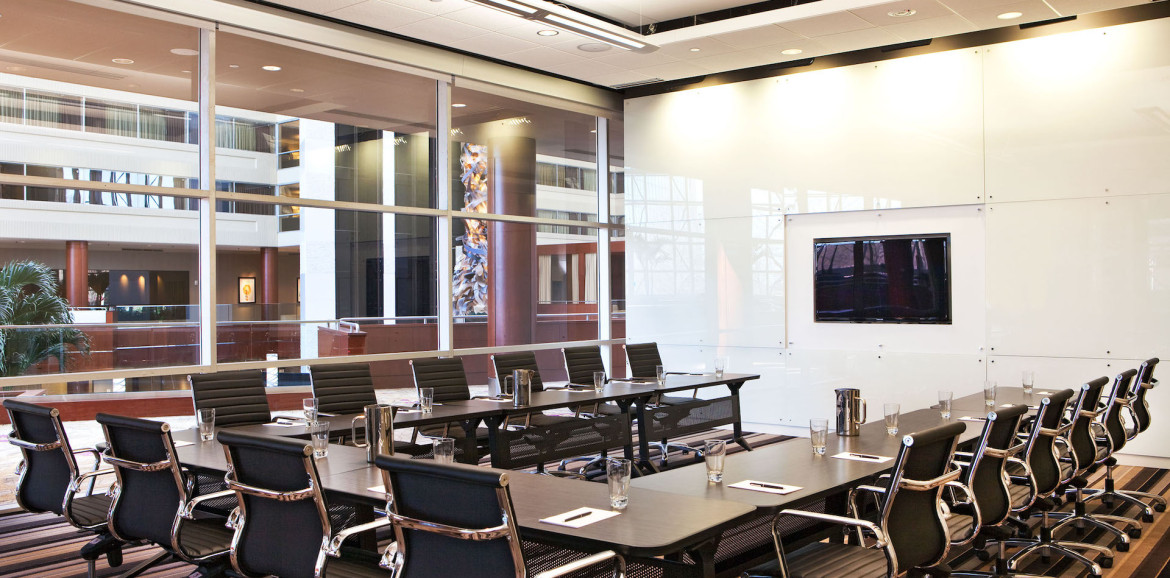 Come Meet at Studio220, where you will find Greenville's newest and most distinctive meeting space.
Meetings + Events
Innovative Event Space in Greenville, SC
A contemporary hotel and conference center in the heart of downtown, the newly-renovated Hyatt Regency Greenville features 35,000 square feet of stylish and innovative meeting and event space in Greenville, SC. A refreshing blend of high-tech capability, urban elegance and Southern charm, our hotel offers 17 meeting rooms and venues, including our soaring glass atrium, magnificent Grand Regency Ballroom and the beautiful outdoor plaza with soothing fountains.
Enhance your gathering with creative catering, audiovisual capabilities, and business services that ensure your events inspire and entertain. Whether hosting a gala wedding celebration for 500 or a board meeting for 15, we offer striking venues, passionate service and unforgettable experiences. Our meeting and event planners will help coordinate all the elements so you can concentrate on what's important – your next big idea or jetting off for your honeymoon.

Meetings
South Carolina Meetings and Conferences
Get inspired and connected at Hyatt Regency Greenville, a high-tech conference center with 35,000 square feet of flexible meeting and event space – from ballrooms to boardrooms. Located in downtown Greenville, our hotel offers 17 innovative meeting rooms, a stunning ballroom, executive boardroom and vibrant outdoor spaces.
Get Inspired and Connected
Host a convention, trade show or reception in our stunning Grand Regency Ballroom – the largest in upstate South Carolina – or host a breathtaking event in our soaring 8-story atrium. When it's time to network and mingle, our outdoor Plaza is a beautiful venue with water fountains and landscaped grounds.
Meeting Services That Matter
Hyatt Regency Greenville is a dynamic, urban destination for meetings that matter. Our meeting spaces feature wireless high-speed internet, audio-visual equipment, web-casting and video-conferencing, special effects lighting, and multiple telephone, electrical and microphone outlets so your presentations make an impact.
What makes our meetings amazing . . .
35,000 Sq. Ft of meeting and event space
17 Innovative meeting and event spaces
Audio-visual equipment and live support
High-speed Internet and Wireless
Event Catering, Planning Services & VIP Upgrades
Transportation to / from Greenville Spartanburg International Airport
We work with PSAV, leading provider of audiovisual and event technology
Contact Us
For more information, to make an appointment or to learn about our packages, contact Jenny Morris, Director of Catering, at 864-298-2419 jenny.morris@hyatt.com.
Events
Downtown Greenville Event Space
Located in the heart of downtown, we are the ideal location for your social affair, wedding, corporate function, quinceanera, or themed party. Discover elegant guest rooms and upscale services. Experience the perfect blend of comfort and sophistication at Hyatt Regency Greenville.
Situated just minutes from the airport, we make planning a Greenville event easy and stress-free. Take advantage of approximately 25,000 square feet of flexible function space – including 17 of the city's largest event venues, a gorgeous outdoor plaza, and the largest hotel ballroom in upstate South Carolina. Hosting the event of the year? Select from three modern ballrooms – accommodating more than 1,000 guests – featuring stages and jumbo-screen televisions. For smaller, more intimate gatherings, choose our Teal Suite, which blends exquisite artwork, gorgeous French doors and mahogany furnishings with ultra-chic contemporary decor.
In addition to first-class venues, we provide you with state-of-the-art technology and personalized service. Let our AV professionals deal with the headaches of setting up equipment. Set a mood of romance and fun with beautiful foliage and floral arrangements. Savor some of South Carolina's finest cuisine, courtesy of our premier catering staff under the guidance of Executive Chef Trevor Higgins. Catering is available for events hosted at our hotel or held off-premises. If you're planning an ethnic wedding, you'll love our customizable menus. Discover peace of mind as we respectfully honor your dietary, religious and ethnic concerns. Our Greenville South Carolina event venue features and services include:
Dynamic location, near the BMW Zentrum Center, Bi-Lo Center, Heritage Greens Museums, spas, vineyards, award-winning golf courses and art galleries
Approximately 25,000 square feet of versatile event space, including 4,000 square feet of pre-function space
17 event rooms, including an outdoor plaza, gorgeous atrium and three large ballrooms, boasting the largest hotel ballroom in upstate South Carolina
Onsite audiovisual professionals, to deliver, set up, and operate the equipment
Renowned onsite and off-premises catering service, providing traditional American food, international or ethnic cuisine – all with Hyatt's signature Personal Preference Dining option
Valet and self-parking in our covered, attached 1,000-space garage, as added convenience for you and your guests
Special guestroom rates for your out-of-town guests
Selection of venues for your ceremony and reception, from intimate to grand
328 spacious, newly renovated guestrooms, featuring the signature Hyatt Grand Bed™, Wi-Fi, iHome stereo with iPod dock, city or atrium views, LCD flat screen TV and 17-hour room service
For more information, to make an appointment or to learn about our packages, contact Jenny Morris, Director of Catering, at 864-298-2419 jenny.morris@hyatt.com.
Catering
Enhance your meetings and events with creative regional cuisine created by our talented chefs and banquet department. Our catering team – the toast of Greenville, SC, will design a menu of fresh, flavorful foods that complement your event with an extraordinary culinary experience.
Personal Preference Dining®
Our Personal Preference Dining® experience lets guests select their entrée at your event. Each diner can select the main course that suits their taste. Your meeting planner will choose the appetizers and salad, and our chef will create a trio of delectable deserts.
Local Greenville Catering
When you want amazing cuisine, Hyatt Regency Greenville's catering service can deliver to any venue – from a public park to a private estate.  Let our expert catering team create a tantalizing menu for your event and deliver right to the festivities.
Contact Us
Hyatt Regency Greenville can customize a menu for your gathering in Greenville, SC – whether you are hosting an event at the hotel or a local venue, and we look forward to designing a mouthwatering event.  For more information, to make an appointment or to learn about our packages, contact Jenny Morris, Director of Catering, at 864-298-2419 jenny.morris@hyatt.com.