Home
>
Award Winning accommodations is just part of it.
Award Winning accommodations is just part of it.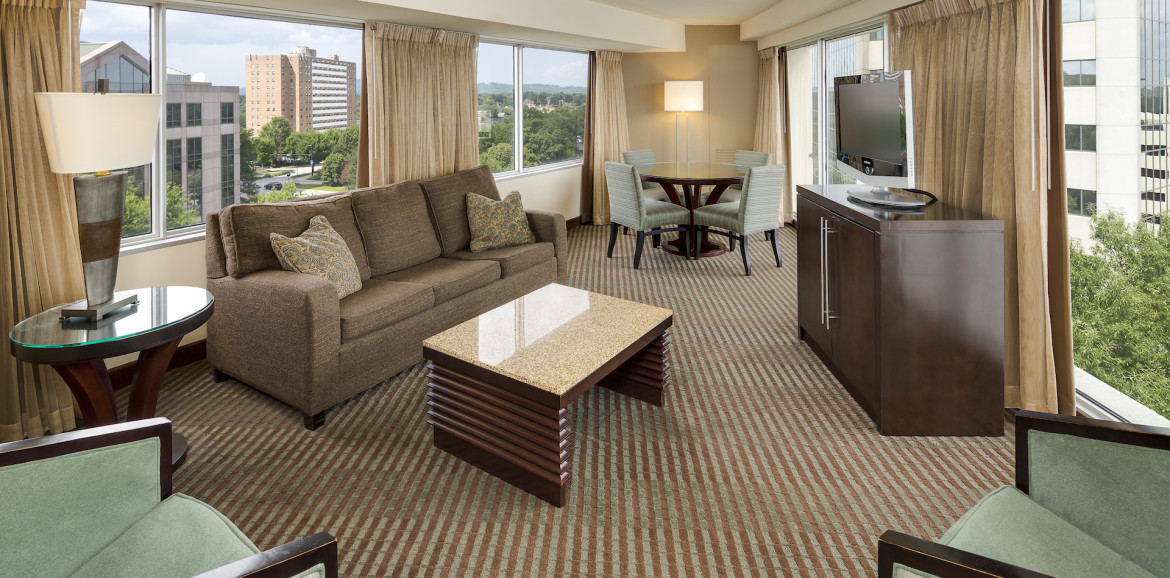 Not only do we have amazing event space, we have the best accommodations in downtown Greenville. Located at Hyatt Regency, everything you need is just a few steps away.
Greenville Hotel Rooms
Southern style, luxury amenities, and contemporary sophistication are what you will find at Hyatt Regency Greenville. Surrounded by the energy of downtown, our Greenville hotel rooms offer a truly peaceful stay for any business, vacation, or family traveler. Our Greenville, SC hotel accommodations feature plush Hyatt Grand Beds® upgraded Portico bathroom amenities, Wi-Fi, and room service during regular hours.
Relax in our oversized suites with stunning Blue Ridge Mountain views from the floor-to-ceiling windows. Enjoy a separate sitting area with wet bar, spa-like bathroom with upgraded amenities and a generous work area with enhanced lighting. Customize your environment by playing your own blend of music on the iHome stereo with an iPod® docking station and enjoy premium entertainment with Video on Demand.
Our "Greenville, Pet Friendly" Hotel
A dynamic mix of Southern style and urban luxury, our hotel in downtown Greenville, SC is a resort and meeting destination in the heart of our city. With elegant spaces and sleek décor, Hyatt Regency Greenville is a relaxing, yet vibrant retreat designed for the modern traveler. Take a swim in our sparkling outdoor pool, stay active in our fitness center, or enjoy yoga in the warm serenity of your room or suite.
Whether you are visiting for business, vacation, romantic getaway, or special event, our award-winning hotel is the perfect place to work, relax, eat, meet, play and explore the culture of our energetic city. Indulge in local, organic cuisine at Roost, meet for cocktails at Orb Lounge, or enjoy a refreshing drink on our sun deck. From vineyards to entertainment centers, the most interesting sights and activities in Greenville are just steps away.
Hotel Features
330 Spacious Guestrooms with Atrium or Downtown views
Hyatt Grand Bed™
Deluxe Portico Bath Products
Business Plan and 9 Deluxe Suites
Valet and Self Parking
Complimentary Wi-Fi
Hyatt Fast Board™
PDA & Express Check-in
Pet friendly
24 hour Hyatt StayFit™ Gym
Seasonal Outdoor Pool / Sundeck
YogaAway™
Jogging Paths
Over 24,000 sq ft of Flexible Meeting Space
14,000 sq ft Grand Regency Ballroom – Largest in the Upstate
Dedicated Boardroom
Off-premise Catering
Accessibility
The staff at our Greenville lodging is committed to ensuring that we meet and exceed all of the requirements for the Americans with Disabilities Act. The staff at our Greenville South Carolina lodging is trained to accommodate guests with special needs, so that all of our guests, including those with disabilities, are able to have an enjoyable and safe stay. At Hyatt Regency Greenville, we want to make sure all our guests are able to take advantage of every activity the hotel has to offer.
The following facilities are available for persons with disabilities: audio-visual smoke detectors; Braille symbols in elevators; restaurant and room service menus in Braille; connecting rooms; wheelchair available on request; wheelchair-accessible doors; wheelchair-accessible peepholes; wheelchair accessible climate controls; bathtub benches and grab rails are available; roll-in showers; close-captioned television decoders; telecommunications device for the deaf (TDD); telephone alerting device; front door alerting device; vibrating alarm clock; audio-visual smoke detectors; amplifying telephone handset; airport and area shuttles; public restrooms; lounges and restrooms; front entrance; 21 rooms.
Internet Access
It's easy to stay connected, no matter where you happen to be in our downtown Greenville SC Hyatt hotel.  Working in your room?  All our spacious accommodations offer complimentary Wi-Fi high-speed Internet access.  Catch up on email while enjoying a delicious meal in Provencia. You can easily access the net from any number of locations around our Hyatt Regency Greenville SC hotel, including:
Guest Rooms: 
Meeting Rooms:
High-Speed Internet – Wired
Public Areas: 
Parking
Hyatt Regency Greenville is pleased to offer our guests to convenient parking options:
Valet Parking: Cost: $15.00 per day, with in / out privileges
Indoor or Self-Parking
Self Parking is available in the adjacent City Parking Garage called Commons Parking. This four level garage is connected to the Hyatt Regency Greenville by a covered walkway. Costs are determined on an hourly basis. Each time a guest exits the parking structure, they will need to pay the current charge. The overnight parking charge is $7.50. Maximum garage clearance is 6'8." Over-sized vehicle parking in limited, please contact the front desk to make arrangements.
Transportation
Getting Around in Downtown Greenville
Hyatt Regency Greenville offers complimentary Shuttle Service to/from Greenville-Spartanburg International Airport. Please arrange pick-up 24 hours prior to arrival or departure via guest services.
Our shuttle runs from 5:30 – 12:00 am.  Times may vary.  Please contact hotel prior to arrival to confirm shuttle times.
Local Transportation in Greenville SC
Getting around Greenville is easy. The Greenville Transit Authority (GTA) offers bus service in and around Greenville, SC, and departs from the Greyhound Depot, a 5-minute walk from the hotel. Amtrak Station is a short taxi ride from us. Visit http://www.greenvilletransit.com/.
Greenville-Spartanburg International Airport – 14 miles (18 minutes)
Non Guest Shuttle Transportation – $20 each way
Taxi / Atchison Town Car Service – $38 each way
Amtrak Station – 10 minutes and $6 to hotel
Greyhound Depot – 5 minute walk from hotel
Pet Policy
We are happy to welcome your traveling canine companions at our pet friendly Greenville hotel. To participate in the pet program and ensure your four legged family member enjoys their stay, please partake in the following canine rules:
Inform the hotel you'll have a pet (or pets) staying with you at least three days in advance of your arrival.
Keep in mind, only dogs weighing 50 pounds and under or two dogs under a combined weight of 75 pounds are permitted.
Rates are as follows:
Up to six nights — $125 per stay
Seven to 30 nights — $100 additional deep cleaning fee
30 or more nights — a fee will be assessed at the hotel's discretion
Looking for a fun activity with your four legged friend? See dates for Yappy Hour at NOMA Square while you stay.